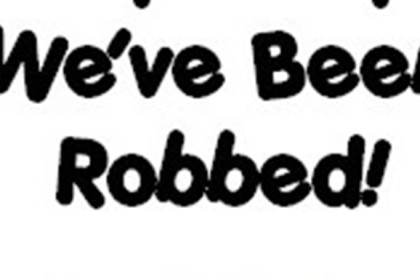 Jesus is moving in Ecuador and the devil is mad!!! So, he had to show his ugly face! Yesterday, 2 people entered Charles and Jen's apartment and stole valuable items. How do I know it was 2 of them? There are fingerprints all over the house; the window they entered through and the one they exited through, and it's evident it was 2 people. But here in Puyo, fingerprints aren't worth much. Police have no nice modern technology in which to match those prints to anyone else, nor do they even have a dusting kit for fingerprints. But that's not the point of this blog. They stole 2 laptops (which were used for our ministry here) and a camera (which was a gift to us from a dear friend a few years back, and it was used in our ministry here.) These items are valued at around $3,000.
They stole these things during a time in which we are trying to save money to build a church in Puyo, a project that is going to be costly for us. Now, somehow, we will have to replace the stolen items. And, no, it's not the first time we've been robbed. In a place where there is so much poverty, thievery is very common.
But more than just material things being taken, our hearts are broken this time for the beautiful things that are more precious than gold to us that we lost. On those computers were photos of beautiful people worshiping the Lord and crying out to God in services; video's of sermons we have preached in our churches; photos of beautiful children that we love here; the songs and music that we had worked so hard on and recorded for our new Spanish cd. And the camera. Yes, without the camera, we will have no impacting photo presentation to show to the churches in the States next year. They stole things that are so special to us, to our ministry, to the Lord. And there is almost zero chance that these items will be found and returned.
Please pray for the ones who did this terrible act. As the Scripture says, "Touch not mine anointed, and do my prophets no harm." And also, pray for God's hand upon all 4 of our churches and properties and all that pertains to the ministry here; that there is a constant hedge around it, that the enemy cannot touch it.
If God would lay on your heart to help us replace any of these stolen items, we'd be eternally grateful and God will reward you greatly! But, mostly, In all things, we still give thanks and glory to Jesus. For he has never failed us yet and He is faithful to be our lawyer and handle this situation, just as He has every other similar instance. Our God is great and greatly to be praised!