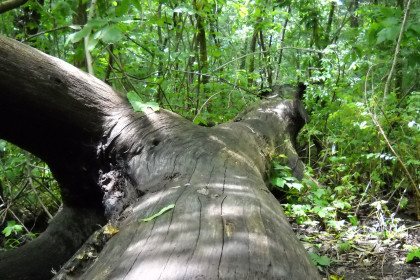 Charles was not well today, so I went to Puyupungo by myself, advising him to stay home and recover. Our church in Puyupungo is not far, only an hour away. So, after a wonderful service with our youth and dropping everyone off at their homes, I headed back to Puyo. About 15 mintues into my drive back, it started pouring rain. Here, that always means there's a chance of a mudslide. And sure enough, a little further down the road, there was a mudslide, not too serious, though. Only thing was, it had made a big tree fall right into the road, covering the whole entire road and blocking me from passing completely. I had to figure out how to get around this tree. Fortunately the trunk was not too huge, but the tree was very long. I had no other option than to move the tree.
As I made this decision, I could almost hear my brother, in my mind, teasing me, reminding me how much of a 'girl' I am everytime we do hard physcial labor. But I also heard Jesus reminding me that "I can do all things through Him who strengtheneth me";-)  So I stepped out into the pouring rain and with all my 'girl' might, I grabbed a good size branch and pulled as hard as I could! (I'm sure I made some grunting noises as I was doing it, too!) And the tree started moving!!  After much panting and nearly falling down a few times, I managed to get it pulled almost completely off the road, so I could pass through.
As I returned to my truck, totally drenched and muddy now, too, I had a smile on my face and a skip in my step! For you see, here in the Amazon jungle, we do whatever it takes, wherever we are, to accomplish the will of God, to bring the glorious message of salvation to the Indians. And today, that meant moving a big tree out of the road in pouring down rain. And it made me so happy to do it! Because this is the life of a jungle missionary, and that is WHO I am:-)!!