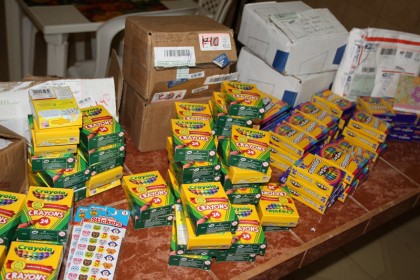 We have been overwhelmed by your response to our request for crayons for the children here. As we receive packages, we are updating and letting everyone know what has arrived. We deeply appreciate all those who have sent and who will be sending crayons to help our children in our 4 churches. They color pictures nearly every service (as this is a special treat for them), so they go through crayons very quickly and crayons are so expensive here.
We thank you:
Apostolics of Ascension for 24 boxes
Keith and Kelly Gibbs for 12 boxes
J.H. Lent for 24 boxes of crayons and 4 boxes of markers
Celeste Farris for 34 boxes of crayons
Gene Bagby for 4 -64 count boxes of crayons
Lynn Bergeron for 12 boxes of crayons and 2 packs of beautiful stickers
Alexandria Valley COG for 101 boxes
Wind of Pentecost for 116 boxes
Faith Apostolic Church for 105 boxes
Anonymous in Madisonville, KY for 16 boxes
Wayne Mack, Redeeming Life for 12 boxes
and Rick Stamps, Victory Assembly Church for 13 boxes!!
We are so very grateful!!!! Thank you all for your sacrifice and we want you to know how very much our children will be blessed!!! Thank you all and God bless you so much!!!!