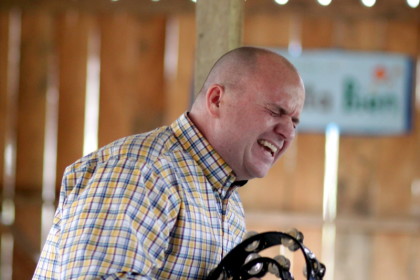 A short time ago while in the USA, I came down with a terrible cough that would not stop, and that lasted nearly a month. After I finally got over the cough, I began to notice that I would get hoarse or even lose my voice completely while worshiping or preaching. And it was much worse back in Ecuador in the jungle heat.
Well, yesterday as Sis. Susan, Sis. Jenny and I were praying before service in Talin, it happened again. I all but lost my voice and we hadn't even started service yet.
This was not going to work! I could not continue like this. How could I preach His Word if I was going to lose my voice? So I began to pray that Jesus would heal me and give me back my voice. Then the Holy Ghost spoke to me and said, "Get Sis. Susan to pray for you." I went straight to Sis. Susan and said "Pray for my voice!" As we began to pray I felt something like cold water running down my throat. And just a moment after that I HAD REGAINED MY VOICE!!! I began to praise the Lord as loud as I could! I had received my voice!!!
I worshiped my Jesus as loud as I could yesterday! I gave Him my all with my "new voice", and He blessed our service! We even cast out a few devils! And I NEVER LOST MY VOICE!!! Thank You Jesus!!!
"Let everything that hath breath, praise ye the Lord!"