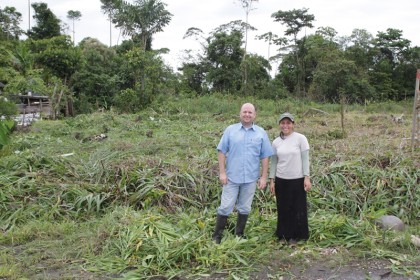 We are sooo excited that the Lord has provided us with a lot in Puyo!!!!! For almost 6 years now, we have rented a place for the Puyo church. Land in this town is very expensive, so we never had the funds to buy (small lots are anywhere from $60,000-$150,000!!! ) But we kept looking, for we so desire to build a House for the Lord here in Puyo! And we found a lot (300 meters) for $25,000!!!! Hallelujah!!!!!! So we were able to buy it! And we just went a few days ago and anointed it and prayed over it in the name of Jesus for all that He has in store there!
But now, since we bought the land, we need HELP (more funds) to build the church! This one will be made of cement blocks, with running water and electricity, and it will cost about $30,000. If you would like to give to this project, it would be a great blessing and we would truly be so grateful! We thank all of our wonderful supporters for your giving to the Lord!!! We love y'all!!
We're excited! We have land!!!