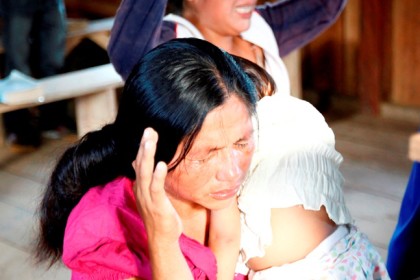 *This blog was written by our sister, Ann, who lives in Tennessee, after we told her of Martha, who is a Shuar Indian in our Yantana church.*
Recently at a fellowship meeting I heard a man say that it is not necessary for Christians to tell others about Jesus. He went on to say that missionaries are certainly not necessary, as everyone has already heard the Word of God.
Meanwhile, 3000 miles away in Ecuador, Martha, after hearing the Word of God for the very first time, falls on her knees, weeping before God. Martha prays one of the most beautiful, yet saddest prayers that I have heard, "God please forgive me, I didn't know, Please forgive me, no one ever told me."
While Martha is repenting for something she is not even guilty of, I should be the one asking forgiveness.  I can't imagine how many Martha's I have passed in my lifetime, never stopping to share Jesus with them. I'm certain that I have met Martha at work, in my travels, in my social life. How could I not tell her?  I am sorry, Martha. I'm sorry that I didn't tell you sooner, that I kept this beautiful hope all to myself.
While I have heard this life changing story thousands of times, there ARE still those who have never heard it for the first time. Everybody, everywhere deserves to know about Jesus. As the song says, it truly is "the greatest story NEVER told."  Please forgive me, Martha.
By: Ann Templet