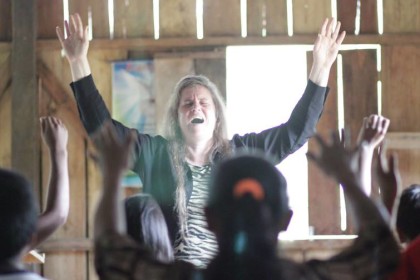 There is no greater feeling than to be missed by someone. I went up town today to do some shopping, and there were several people, all along my way, who were just randomly asking me, "Where have you been?" or saying, "We haven't seen you in a while", things like that. Some of these people, I don't even know their names; we just pass in the street, or I shop at their stores. But there is nothing more beautiful than knowing that they missed seeing me here. That's a pretty special feeling to me!
Just a few nights ago, Jenny told me that while I was gone to the United States, Jeremias said to her, "Sister Susan is like a bright light here." He said, "You might see other real small lights sometimes, but her light is like a great big giant light!"
I like to think that all those people today who asked me where I had been these past few months and noticed that I wasn't here anymore, it is because they missed seeing that light in me, the light of Jesus shining to them! I do believe with all my heart that that is what they missed!! And I give thanks to Jesus for that!!!
"Ye are the light of the world; a city that is set on a hill cannot be hid."
"Let your light so shine before men that they may see your good works and glorify your Father which is in Heaven."
Matthew 5:14, 16