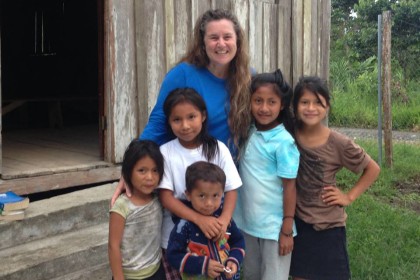 "Wherever you are, be ALL there. Live to the HILT every situation you believe to be the Will of God."
When the Lord called me to be a Missionary, there were some who couldn't understand why I'd leave a beautiful, blessed America to come to a third world country and teach indigenous people about Jesus. Having to leave behind (as they worded it) my modern conveniences, my nice car and home, my family and friends, and step off into "who knows what". But my reason for going was always because, "Jesus called me to do it and I truly believe it's His will for my life." Some said I was mistaken, that it surely could not be God's will for someone with my talent to 'throw it all away' and never play again, or someone with excellent working skills to just 'let them be wasted'. Almost funny to me, it's as if I didn't really hear their disapproval ringing in my ears because all I could think about was Ecuador and doing God's will. Going ALL in. Obeying Him to the HILT!!!
And now, almost 10 years later, without an ounce of doubt, I know I am in God's perfect will. For you see, all those modern conveniences, well, I found out that I can live quite happily without them. And yes, I did step off into "who knows what" lol! A land of tarantulas and boas and active volcanoes surrounding us, and oh yeah, machete wielding and spear toting Indians everywhere! lol But wow, what an Adventure!! And those talents and skills of mine? Well, they get used every day here, in our office work for the ministry, and in our church services, preaching and playing keyboard or tambourine and singing about Jesus. But the best part of all are the beautiful souls that I would have never met, that never would have heard that someone like Jesus loves them so much, that never would have experienced Salvation, if I had not acted on what I truly believed to be the Will of God. I AM in His perfect will. I am ALL here. I have gone ALL in. I am living to the HILT the perfect Will of God for my life!