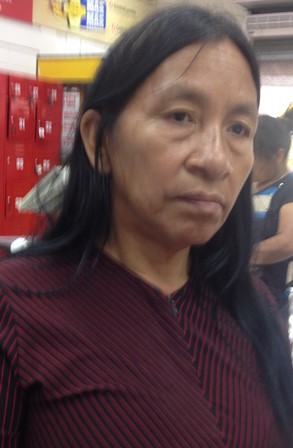 While in el centro today, I met a Waorani lady. She told me that she and her 10 year old granddaughter had walked to Puyo from her community, because her granddaughter was sick. I knew that was far, because the Waorani communities are a good distance from Puyo. She said they had walked for 3 days to arrive here, climbing high mountains, walking in mud, wading through a river, and they encountered 5 snakes in their 3 day trek, one being the deadly venomous "X", but she was able to kill them all. They had only just arrived this morning, and had not eaten since they left their community.
As I listened to her speak in broken Spanish (her first language is Wao), I couldn't imagine this woman's journey. She and her granddaughter were both weak, tired, and hungry, so I went to the bank and withdrew some funds, and then immediately took her to the nearby grocery store. I bought them food to eat now, but also lots to take back with them, 25 lbs rice, 10 lbs sugar, noodles, tuna, koolaid and juice mixes, 2 large cooking oils, popcorn, bread, and a large bag of animal crackers for the granddaughter. As I paid for all of it, she took the bags and set them on the sidewalk outside. She stood there looking at them, and when I came out of the store, she grabbed me and hugged me so tightly, thanking me, and I told her to give thanks to Jesus, for He is the one who provides! I asked if she needed help to get where she was going for the journey back, and she said, "No", that they'd be just fine. She again hugged me. I told her I was so glad to meet her and look forward to seeing her next time she is here in Puyo, and then, a 3rd time, she hugged me.
I left her with tears in my eyes. She had walked 3 days to get here; what she had done was so much more admirable and worth praising. But the little that I had done for her, the Lord blessed it and made it so BIG in her eyes! Take advantage of every act of kindness you can show to someone, especially in the love of the Lord, because you never know when something that you think is so small, may impact their lives tremendously!! I was very blessed today for having crossed paths with this valiant woman!